AI or Artificial Intelligence is unarguably changing the digital landscape of the world. It has now cemented its place in the banking industry as well.
An Emergen Research report shows that back in 2019, AI in banking was worth $8.30 billion, which is expected to rise to $130 billion by 2027.
When we say AI in banking, we specifically talk about the likes of banking chatbots. Today, you don't need to visit a bank to register a complaint or get your transaction list. You can hop on to your banking app, and voila!
Eno, developed by Capital One, Aida by SEB, and Erica by Bank of America, are some real-time examples of chatbots in banking.
Chatbots can be of two types, a ready-made chatbots (Messenger) developed by companies like Facebook or specific customized chatbots developed by financial institutions.
Now, the question is, how do these chatbots make life easier for bank staff?
How do chatbots help streamline banking operations?
So, a banking staff has to take care of many tasks like accepting customer payments, greeting them, catering to their queries, providing information, and managing their banking affairs.
Chatbots help them streamline the process by communicating with the customer, knowing their queries, sending them to the respective departments, and managing tasks like payment acceptance.
Since bots can learn and act in the desired way, banking staff no longer have to repeat the same lines or manually issue the same response to customers.
6 benefits of chatbots in the Banking Industry
Chatbots come with a variety of benefits for the banking sector; let us look at them: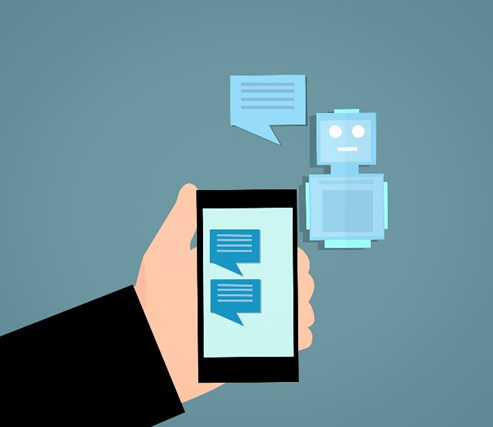 Ease in communication
Unlike human beings, chatbots do not harbor emotions or do not undergo mood swings while dealing with clients.
You can always trust a chatbot to end communication on a fruitful note. They do not hit back even if the client's behavior is bad.
Chatbots follow a standard protocol. They do not deviate from clients' concerns and do not forget data.
Also, some clients complain that it takes several minutes to connect to the banking representative, mostly because they are busy dealing with other queries. Therefore, chatbots help them communicate swiftly and register their complaints.
Availability
Unlike humans, chatbots never take leaves. Not even on weekends. They work 24×7, allowing customers to register their complaints even on weekends.
There are no restrictions on time as well. Customers can register their queries at midnight and even during national holidays.
Provides relief to banking personnel
Earlier, banking staff used to get overwhelmed by continuous requests from clients. They attended to every customer regardless of how big or small their query was. As a result, banking operations were generally slow and failed to satisfy their clients.
But with the introduction of chatbots, only those queries that AI cannot solve are transferred to representatives. It allows them the much-needed time to focus on critical banking operations.
Convenient to all
Convenience is a critical factor in today's world. People are willing to pay a few extra bucks to get a window seat or walk an extra mile for a less-crowded store.
Traditional banking operations were inconvenient. People had to stand in queues for hours to get their cheques deposited to verify their identity.
With the advent of chatbots, all such queues have vanished. Today, you can simply type a few words or send a voice note, and you are good to go. Where youngsters can type and get instant replies, the elderly can send a voice note to get their queries sorted.
Personalized communication
A chatbot is programmed to gather and use client data to give them a personalized experience.
In today's world, people want to connect with those who understand them. And Chatbots can do that easily.
Even before the start of the actual communication, the chatbot knows about its client through the name, email, location, and phone number they have provided.
Therefore, the chatbot is likely to display relevant information to that particular user. It not only saves time but also keeps the customer happy.
They are secure
Chatbots sound like the perfect option to replace a representative, having talked about all the benefits, right?
But have you thought about how secure chatbots are?
Every security protocol must have an HTTPS or Hypertext Transfer Protocol Security. An HTTPS protocol ensures that data gets passed in an encrypted format. In other words, all the information exchanged between the client and the chatbot cannot be read by any third party.
HTTPS uses an SSL/TLS certificate to protect the communication and passes it over a secure network. Messengers like WhatsApp also use end-to-end encryption, like chatbots.
Current Challenges Faced By AI
Though chatbots serve various purposes, their efficacy is still in question. To help you understand how, we will talk about a survey from Spiceworks where 59% of users have filed complaints regarding the ineffectiveness of chatbot systems. So, let's talk about the challenges.
30% of respondents say that chatbots cannot properly understand and execute their commands.
29% of respondents say that AI chatbots cannot catch their accent and that voice recognition technology needs upgradation.
23% of respondents complain that chatbots cannot segregate their owner's voice from other voices.
Apart from these concerns, people have issues with their costs as well. Since the banking industry is highly fragile, banks cannot afford to leak even a single data byte. Therefore, developers need to emphasize strengthening SSL encryption so that hackers cannot compromise the banking system through chatbots.
The Future of Chatbots
Regardless of the AI challenges, chatbots are here to thrive. More and more banks are now adopting AI-powered chatbots to streamline their operations.
Banks can save more time and focus on quality user experience with less human intervention.
According to Juniper Research, by 2023, AI-powered chatbots are likely to save 862 million minutes for banks, equivalent to $7.3 billion in cost-saving.
Therefore, chatbots are not going anywhere. Instead, more financial institutions will adopt them. Hopefully, with time they will get better and securer.
Here are a few changes we can expect to see in chatbots in the coming years:
They will become more efficient in understanding and interpreting human behavior and needs.
We can expect voice assistants to perform better. With continuous upgradation, developers are sure to reach a point where chatbots can easily understand all human accents and words.
Chatbot security concerns will continue to be a topic of debate for users. With cybercrime being the biggest challenge for the banking industry, people will hesitate to share sensitive details like credit/debit card numbers, bank details, and usernames.
Final Thoughts
With the digitization of the banking industry, banks are swiftly moving towards AI technology to make banking convenient for users.
Thanks to chatbots, banking staff do not have to deal with minute problems. They can cater to bigger issues like security and upgradation.
Chatbots have also made it easier for customers to get instant solutions. They can gather information about their accounts and banking policies just by sending a text in the chat box.
Since technology is rapidly upgrading, we expect chatbots to become more precise and efficient in dealing with client issues.