Tattoos are an increasingly popular method of self-expression, allowing people to express their own personalities and creative inclinations. With the growing popularity of tattoos, the need for efficient and user-friendly tattoo design software has increased dramatically.
These cutting-edge programs enable tattoo aficionados to experiment with and create gorgeous patterns right at their fingertips.
In this article, we will go into the realm of the finest tattoo design applications of 2023, emphasizing their features, customization choices, and interaction with augmented reality (AR) for an unrivalled tattoo experience.
Criteria for Selection
Several important factors were examined when picking the greatest tattoo design apps of 2023. These criteria include a user-friendly interface, a variety of design possibilities, customization tools, AR integration, and community and social sharing capabilities. Let's look at the applications that matched these crucial requirements and developed as market leaders.
The Best Tattoo Design Apps
1. Adobe Fresco – The Most Versatile Choice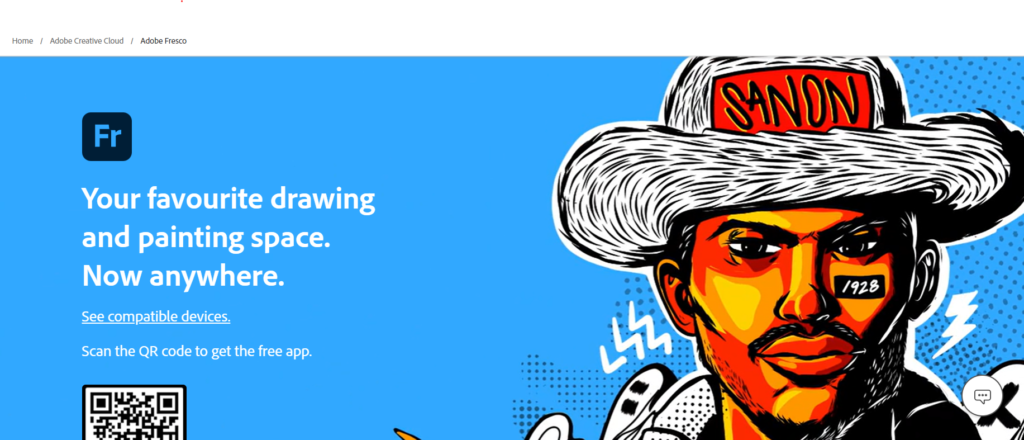 Adobe Fresco is the pinnacle of tattoo design software in terms of flexibility. It caters to both conventional and digital tattoo artists with its huge library of vector and raster brushes.
Additionally, the software features incredible live brushes that imitate real-world textures, allowing artists to create elaborate creations. Furthermore, automatic synchronization with the cloud guarantees that your work is accessible across many devices.
Features Overview:
Adobe Fresco blends the power of current technology with creative expression, providing a wealth of tattoo creation options. Its brush collection is a treasure for artists looking to experiment with different styles and methods.
Customization Options & Design Library:
From mandalas to portraits, Adobe Fresco has a design option for everyone. Artists may also change the brushes, colours, and layers to create their own visions.
User Reviews & Ratings Additionally:
Adobe Fresco's easy interface and lifelike brush strokes are praised by users. The app's 4.7-star average rating demonstrates its popularity and dependability among tattoo fans and experts alike.
2. Procreate – Unleash Your Creative Potential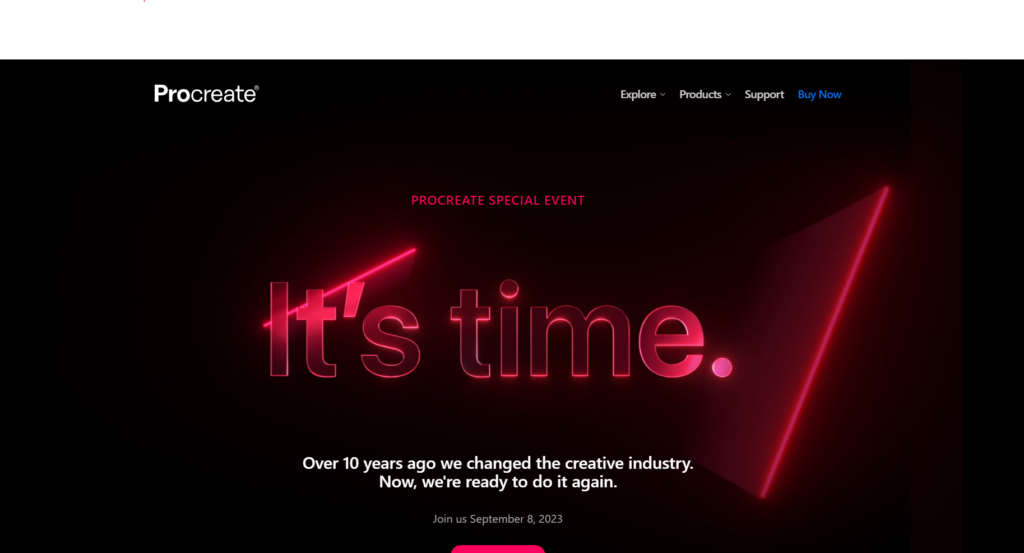 Procreate is a strong and complete tattoo creation program that includes a plethora of pressure-sensitive brushes and gorgeous effects.
Because of its complete PSD compatibility, it integrates well with other design applications, making it a favourite among tattoo artists.
App Overview:
Procreate is an easy-to-use and feature-rich platform for tattoo creation. Artists may push their creative limitations to new heights with their extensive brush set and excellent editing capabilities.
Unique Design Templates and Styles:
Procreate offers a wide range of design templates and styles, encouraging artists to experiment with diverse genres and aesthetics.
AR Integration for Real-Time Visualisation:
Using augmented reality technology, Procreate enables artists to see their designs on the skin in real-time. This novel feature enables exact placement and allows clients to visualize the finished product before agreeing to the tattoo.
3. InkHunter – Try Before You Ink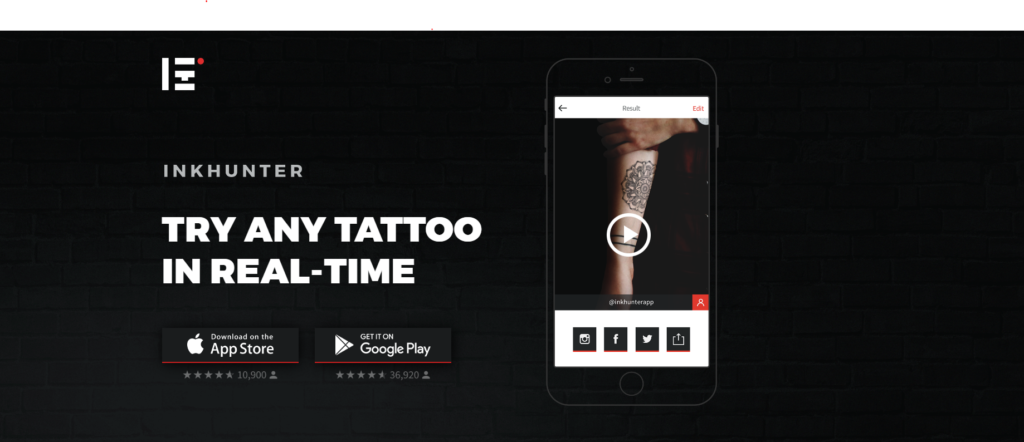 InkHunter transforms the tattoo design process by allowing users to virtually test out designs on their bodies. This one-of-a-kind tool assists people in making educated tattoo selections, ensuring they select designs that speak to them.
Features and Functionality:
The ability to display tattoo designs on the user's body via augmented reality is InkHunter's distinguishing feature. Additionally, this allows users to preview how a design would appear on their skin, taking into account elements such as size and positioning.
Artist Collaboration and Customization:
Secondly, InkHunter members may work with tattoo artists to create personalized designs based on their preferences. This collaboration guarantees that the finished tattoo is exactly what the customer imagined.
Testimonials from Users& Success Stories:
In addition, users laud InkHunter for its realism and accuracy in projecting tattoo patterns. Many people share their success tales of obtaining their perfect tattoo by digitally testing out different ideas before committing to the ink.
4. Tattoodo – Your Gateway to Tattoo Inspiration
Tattoodo is more than just a tattoo design software; it's a full platform that links users with tattoo artists, offering a plethora of design ideas as well as the option to create personalized collections.
App Overview and Purpose:
Tattoodo is a centre for tattoo fans, providing a large selection of tattoo ideas in many categories. The app's goal is to inspire users and make the process of obtaining their dream tattoo easier.
Wide Tattoo Design Collection:
Also, Tattoodo has a wide collection of tattoo designs spanning from classic to contemporary styles. Users can browse through many categories to obtain ideas for their next ink.
Powerful Editing and Image Manipulation Tools:
Tattoodo users may utilize powerful editing tools to personalize their selected designs. They may customize the size, placement, and colours to their liking, resulting in a genuinely one-of-a-kind tattoo.
5. Amaziograph – Unlocking Geometric Tattoo Art
Amaziograph is a tattoo design tool that specializes in generating amazing geometric patterns and symmetrical designs. It is numerous layers and configurable brushes make it a favourite among geometric tattoo artists.
Overview of the App and its Community:
Amaziograph is a specialized site for geometric tattoo artists and lovers. The app develops a thriving community that promotes cooperation and innovation.
Social Sharing and Comments:
Secondly, Artists may share their work with the Amaziograph community and receive comments from other artists and fans. Within the geometric tattoo art community, this social component promotes inspiration and progress.
Tattoo Artist Cooperation:
Amaziograph promotes tattoo artist and tattoo enthusiast cooperation by enabling smooth communication and creative customization. This ensures that the final tattoo design incorporates the artist's expertise while reflecting the client's vision.
6. Tattoo Trends – Stay Up-to-Date with the Latest Designs
Tattoo Trends keeps visitors up to date with the most recent tattoo designs, styles, and trends. It acts as a continual source of inspiration for tattoo aficionados, guaranteeing that they stay ahead of the curve.
Tattoo Trends:
Tattoo Trends is a handpicked collection of the most recent tattoo ideas and trends. It displays popular trends, allowing users to discover new ideas and remain up to date on the ever-changing tattoo environment.
Consistent Updates and Inspiration:
Above all the app delivers consistent updates to keep users interested and motivated. Tattoo Trends keeps viewers up to date on the newest tattoo trends, whether they be new design concepts, developing styles, or cultural influences.
User-Generated Content and Ratings:
Tattoo Trends incorporates user-generated content, enabling users to share their tattoos and receive ratings and feedback from the community. This interactive element fosters creativity and encourages users to contribute to the tattoo culture.
7. TattooAR – Virtually Try-On Tattoos with Realistic Precision
TattooAR uses augmented reality technology to allow users to visually experiment with tattoos. Because of its realistic representation and customization capabilities, it is a useful tool for both tattoo fans and professional tattoo artists.
Augmented Reality Technology for Virtual Tattoo Try-On:
TattooAR uses augmented reality to project tattoo designs onto the user's skin, delivering a realistic and immersive try-on experience. This allows people to visualise the tattoo before committing to it permanently.
Realistic Depiction and Customization Options:
Also, Tattoo AR offers high-quality depictions of tattoo designs by taking skin tone and texture into account. Users may change the size, location, and colours of the design to obtain a personalized look that matches their tastes.
Professional Integration Tattoo Artists:
TattooAR enables users and professional tattoo artists to collaborate seamlessly. Users may interact with artists, discuss designs, and receive professional advice using the app, providing a smooth transition from a virtual try-on to the actual tattooing procedure.
8. InkBook – Managing Tattoos with Ease
InkBook is designed for tattoo fans as well as tattoo studio owners, with features such as design creation, appointment scheduling, and studio administration.
Tattoo Studio Management Tools:
Firstly, InkBook provides a complete range of tools to streamline studio operations. The program streamlines the administrative parts of owning a tattoo shop, from appointment booking and client administration to inventory monitoring and financial reporting.
Client bespoke Design Creation:
Tattoo artists that use InkBook may create bespoke designs right within the software. This feature enhances customer engagement by incorporating their individual ideas and preferences into the design process.
Scheduling and Appointment Booking Functionality:
Additionally, tattoo shops may handle appointments more effectively using InkBook's easy scheduling system. Clients may use the app to effortlessly arrange appointments, decreasing scheduling conflicts and enhancing the overall customer experience.
Conclusion
In conclusion, Tattoo design applications have transformed the tattoo business, allowing both enthusiasts and artists to express their creativity and make educated selections. In this article, we looked at the top tattoo design apps of 2023, each with its own set of features and functionalities to help with the tattoo design process.
These applications cater to the different demands of tattoo fans, from Adobe Fresco's adaptability to Procreate's creative potential, from InkHunter's virtual try-on to TattooAR's augmented reality experience. Whether you're a professional artist looking for inspiration or an individual thinking about getting your first tattoo, these apps will help you bring your tattoo idea to reality.
The future of tattoo design applications contains even more exciting possibilities as technology advances, greatly improving the tattooing experience for everyone involved.
FAQs:
Why are tattoo design apps important?
Tattoo design apps are essential because they give users a simple and accessible platform to explore, create, and customize tattoo designs. They allow tattoo fans to experiment with different styles, sizes, and placements, allowing them to make more educated tattoo selections.
What are the advantages of using tattoo design apps?
There are various advantages to using tattoo design applications. For starters, they provide a diverse choice of design possibilities, allowing users to experiment with numerous designs and genres. Second, these programs frequently include user-friendly interfaces and intuitive tools, allowing both novice and professional artists to produce spectacular creations.
Can tattoo design apps be used by professional tattoo artists?
Yes, tattoo design applications aren't just for those who wish to have tattoos; they're also useful for professional tattoo artists. These applications provide artists with a large library of design ideas, templates, and customization possibilities to help them with their creative process.
Are tattoo design apps suitable for beginners?
Absolutely! Tattoo design applications are intended to be user-friendly and accessible, making them ideal for newbies just starting out in the tattoo design world. These programs frequently provide a number of design templates.